New Video! Pick Your Poison
New video premiering on Friday June 12th! It's definitely not your average lyric video - this thing is jam packed with incredible multimedia work built around the song!



.
Jim Bean Talent Search - March 20th 2020
We are extremely excited to announce that we were chosen to participate in the Jim Beam National Talent Search alongside four other great bands! The contest will be on March 20th at
Sniggily Wiggily's
- free admission. We hope you can come out to support us and help us get to play at Canada Music Week! Yeeeeeoohhh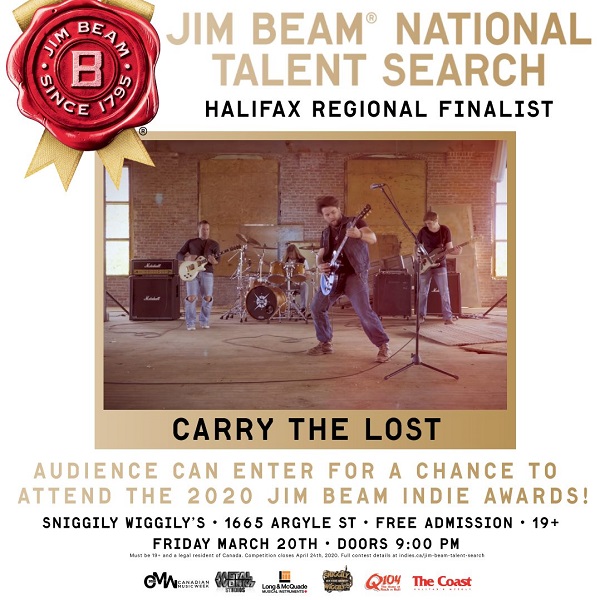 .
SeaHorse Tavern - April 2nd
Three Nova Scotian rock bands will be hitting the stage at The Seahorse on April 2nd. Hope to see ya there!
The Seahorse Tavern
Thursday April 2nd
Doors at 9PM // Show at 10PM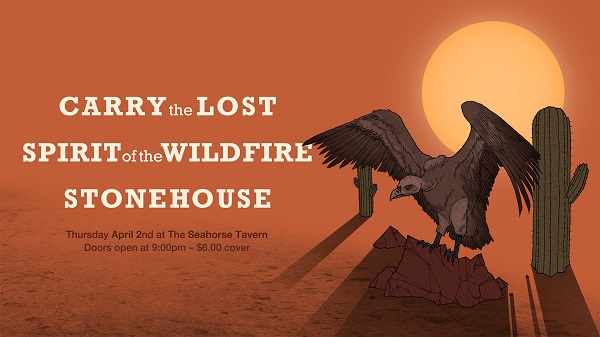 .
Gus' Pub - Friday March 13th - Your Lucky Night!
Join
Only Vultures Left
,
Carry the Lost
, and
Impact Eleven
on Friday the 13th for a night of good ol' rock and roll!
Friday March 13
Gus' Pub
Doors at 9PM // Show at 10PM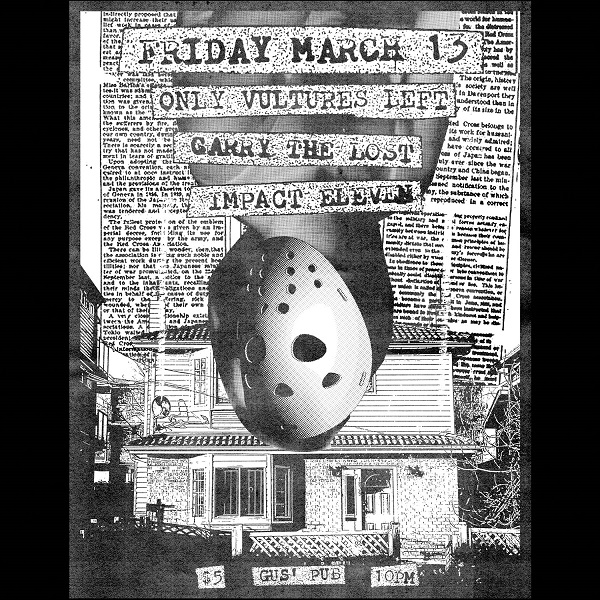 .
"Battle Tested" Single and Video Release
We're beyond excited to finally share our first single off our upcoming debut album with you guys! Hopefully you enjoy listening to it as much as we enjoyed making it! Crank it up!



The nighttime's calling, hello, my old friend in need, where do you want to begin?
I've made up my mind, turn towards my proclivity, my Achilles heel.
'Cause I don't know what I like, and I just want to feel alright.

Battle-Tested, war struck lately, look around and you'll see what I see, scars so deep that you'll never see what's wrong (see what's wrong).
Eyes of fire, a burning voice inside, uncage the animal, let him come to life,
(the rage sweeps in like a storm again),
You better watch yourself to save your skin.

My inclination, my fixation on a dire need,
To make myself come to life.
It's not an addiction, it's a built-in frickin' part of me, my Achilles heel.
'Cause I don't know what I like, and I just want to feel alright.

Battle-Tested, war struck lately, look around and you'll see what I see, scars so deep that you'll never see what's wrong (see what's wrong).
Eyes of fire, a burning voice inside, uncage the animal, let him come to life,
(the rage sweeps in like a storm again),
You better watch yourself to save your skin.

Battle-Tested, war struck lately, look around and you'll see what I see, scars so deep that you'll never see what's wrong (see what's wrong).
Eyes of fire, a burning voice inside, uncage the animal, let him come to life,
(the rage sweeps in like a storm again),
You better watch yourself to save your skin